English by Skype
Learning English by Skype is carried out by a experienced teacher, in a mini-group or individually.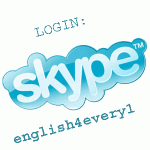 English by Skype is a unique opportunity to study/speak English distantly.

Do you have flexible working hours?
Do you have to stay at home under a set of circumstances but you are eager to speak English fluently?
Is it necessary to save time and money?
We offer you a unique opportunity to learn English by Skype. A place equipped with the Internet and a computer allows to get English lessons even at home! Virtual reality, modern Internet technology are able to recreate an atmosphere of a class-room with a professional teacher directly at your place or in an office. You can learn English in a comfy homely surroundings at a convenient time with a suitable pace!
Teaching process is conducted by experienced teachers, a student and a teacher can see each other during the video conference. A student is provided with learning materials. The Skype lesson is carried out in accordance with the same methodological principles as a real lesson.
You can find out more about standard English by Skype lessons in the section «Skype lessons»
If you need to cover a language course fast, we are happy to offer a Skype intensive course!